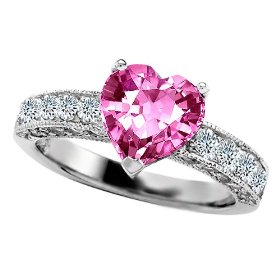 Pink Diamond
The pink diamond is the world's most rare and valuable diamond.The Argyle mine is the world's foremost source of unrivalled intense pink diamonds, producing 95% of the world's supply. However, an extremely small proportion of Argyle Diamonds production is Pink colour, in fact less than one tenth of 1% is classified Pink.
The legend of Argyle pink diamond has grown over the past ten years. At the 1989 Christie's auction in New York a 3.14 carat Argyle pink sold for $1,510,000. Privately, Argyle has sold pink diamonds for up to $1 million a carat.
For years the white diamond was considered the world's most beautiful diamond, until the discovery of the Argyle mine heralded the arrival of the Argyle pink diamond. Never before had pink diamonds displaying such intense shades of colour been seen. The pink diamonds of India, Brazil and Africa were characteristically light in colour and paled even further when placed beside the intensely pink Argyle diamonds. The natural colour diamonds have in fact been around as long as the classical whites but in much smaller quantities and never in great demand.
The Argyle pink diamond comes in shades ranging from delicate pastel rose to robust raspberry and full-blooded purple-reds. The prices per carat are determined by the intensity of colour. Argyle selects only its most vibrant pink diamonds for polishing at its head office in Perth. There, the stones are polished in a wide range of cuts, such as round brilliant, marquise, oval and pear, to enhance their natural beauty. Polished pink diamonds are available in the same size ranges as traditional commercial sizes.
Once a year, Argyle Diamonds issues a special release of outstanding pink diamonds that are sold by special bids in the international and invitation-only, Pink Diamond Tender.